People transformation programme.
Collective Leadership: A pioneering approach to people transformation.
With our core retreat programme, we offer a proven methodology to support organisations on their journey to long-term culture change and 'human innovation'. We like to see ourselves as 'facilitators of people transformation': we know how to transform your organisation and help you create the circumstances for people to flourish.
The core retreat programme consists of three 3-day collective leadership development retreats, each with a different angle on embodied and systemic leadership, combined with coaching and integration elements.
The programme is available for intact teams, as well as individual pioneers and change agents that would like to explore collective leadership. We are always focused on making people transformation happen, while at the same time tailoring and customising the content and angle to your specific needs.
Our formula:
What makes our programmes different?
Our programmes are different than other leadership programmes you have experienced before. We focus on developing your people, creating awareness and raising consciousness through experiential learning in a safe environment. By delivering an experience that always includes our 5 key elements, we guarantee transformation and culture change to happen for your people and organisation.
5 key elements
Paying it forward.
We strongly believe in the concept of "Pay it forward". After getting started with your key leaders, we support them to enable large-scale and sustainable people transformation, both within and beyond your organisation.
tell me more
Read about the impact
Ardanta Case Study: Collective Leadership is a non-hierarchical model.
Many organisations say they would like to improve their results by empowering their people to innovate and take responsibility for
better solutions, but this often proves elusive. A new approach, being pioneered in the Netherlands and Australia to meet the challenges of a complex and fast-changing world, is achieving remarkable outcomes. It is called collective leadership. This case study tells the story of one company's experience of collective leadership, and the profound cultural shift it generated.
full version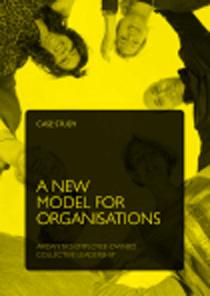 "Together we can do much more than we think we can."
In other management trainings you feel like you have to keep up appearances. They never came to my core, not the way the Collective Leadership programme did.
The programme is challenging and confronting at times; and it has brought me very valuable insights and knowledge that still have an impact today. For instance, being present is something I still work on. Something simple like looking into my colleagues' eyes and asking what is on their minds before we get started, helps us get present and makes our meetings more effective.
We used to be a very hierarchical organisation. As soon as there was a problem, people would bring it to management. Now we're making sure that everyone takes ownership by giving room for employees to rely on their own knowledge and talent.
Other trainings are focussed on individual leadership but in Collective Leadership the whole organisation is involved. All together, we can do much more than we think we can.

Guido Horst
General Director at ArdantaLBSI 1279testimonials